Just another snydle.com Sites site
Rangoli Designs and Patterns
The traditional Indian concept of making a rangoli on festive occasions has become highly popular now. Several people have realized the beauty of these designs and are now using unique rangoli designs on various occasions. Obviously, who doesn't love a colorful and intricate design made at home? It does not only add colors to a festival but also shows off the creativity of the maker. Naturally, this adds more value to a celebration than ready made decorations can.
If you are a person like me who absolutely loves colors, you must try making a rangoli! It is all about the will to make it. Trust me, you can create an absolutely beautiful design even if you have never been involved in arts. This is because there are various things for you to choose from. You can make simple dot rangoli designs while you can also for more difficult and unique rangoli designs and patterns. The best part is that there are no rules; it is all about playing with colors in your own way!
Easy Rangoli Designs
This section is for you if you are a novice at making a rangoli. You can try several easy designs that will give you a great start in this art. One of the very easy rangoli designs is to make a flower. You can simply draw the outline out with a pencil, choose your colors and get going. While you may think this is too simple, a good flower filled with bright colors can make an absolutely amazing rangoli. Here is a very easy idea. This may seem difficult at first sight but trust me, you can make this very easily. All you need to do is to draw a number of petals with a pencil. Then, choose different colors to fill in and take your time filling these in. Just make sure that the colors you choose go well with each other and you will end up with a great design like this one with a ravishing combination of purple, white and yellow.
You can also go for creating a geometric shape. This is a part of easy rangoli designs that look incredible. This is because a geometric design will allow you to fill in a lot of colors without actually having to fill colors in tiny parts. You can create a large diagram, divided into large sections and can choose different colors to fill in these. It will be very simple to do this, though it may take a fair bit of time. This rangoli is a great example of a geometrical design that is all about drawing and takes very little effort in filling with colors.
Diwali Rangoli Designs
Even if you do not like to create a rangoli on every traditional event, Diwali is one where a good homemade rangoli is an absolute must-have! Diwali rangoli designs can really make the environment vibrant. Since Diwali is an event which is all about celebrations, colors and noises, a rangoli can be a great addition. There are several ideas for diwali rangoli designs that you can make use of. For Diwali rangoli designs, geometrical designs usually work best. You will be amazed at how a design within a circle can look so beautiful.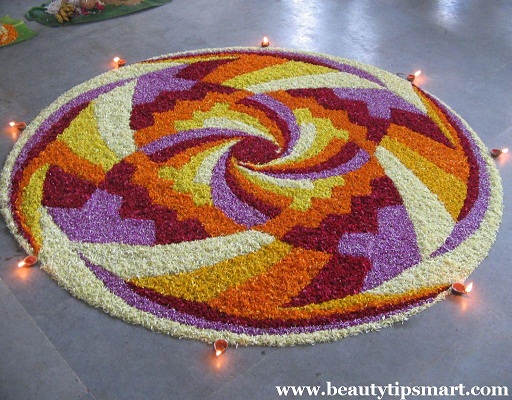 Here is an example of a design within a circle. A pattern is created within the boundaries, filled with only a few colors. Remember that filling your rangoli with too many colors will take the magic away. Make sure that your Diwali rangoli designs include a noticeable color combination and pattern. A great idea for Diwali is to add candles to your design. You can also use traditional Indian candles, known as Deeya, to add beauty to your rangoli. They can bring out the design of even the simplest of patterns.
Dot Rangoli Designs
Dot rangoli designs are also very popular among beginners who are just learning to make a rangoli. The purpose of a dot rangoli design is to make sure that you make a balanced drawing and that once side is not misaligned with the other. It can be rather difficult to draw a balanced large image on the floor, which is why many people like to use dot rangoli designs. In these, you are supposed to place dots evenly on the floor. You can then draw a design by connecting these dots.
Here is an example. You can make evenly placed dots on the floor. You can then make a drawing around them so that the design is balanced and looks the same on all four sides. Once you have made a perfect drawing, you can then fill in colors. Using dot rangoli designs also makes it easier to remember the colors that need to be filled in. You can easily avoid filling the wrong colors. Using this technique, you can practically create any design possible!
Peacock Rangoli Designs
These old designs will never run out of fashion. Peacock rangoli designs have been popular ever since the concept of a rangoli came into being. These beautiful creatures can be mapped onto a rangoli with their natural colors. They can make a design look extremely beautiful and intricate. While peacock rangoli designs certainly are a bit difficult to make, you can be rest assured that the hard work will pay off. Here is a rangoli design showing off amazing drawing skills. While you can keep blue and green, you can also choose your own colors to create a unique peacock. It will look just as beautiful as the original colors of a peacock!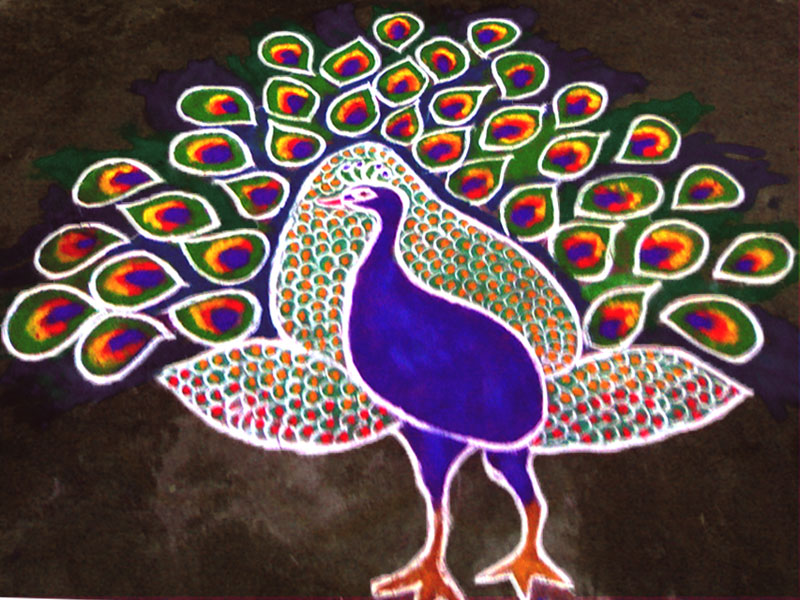 Now that you know about popular rangoli designs, go out, buy some vibrant colors and begin making that rangoli. It will light up any festival and will make it a memorable one because of your creativity!
br>
By
Fatal error
: Call to undefined function google_plus_authorship_link() in
/home/cckerala/public_html/wp-content/themes/light-clean-blue/single.php
on line
99